Social Security Benefits
Warning: Do not use the information on this page as your personal data!
To get a reasonable approximation of what your personal Social Security benefits will be you need to go to two websites.
My Social Security is a page from ssa.gov that allows you to sign up and get an estimate of your Primary Insurance Amount (PIA), the benefits you will receive if you elect to retire at your normal retirement age.
Early or Late Retirement is a page that will let you calculate the percentage of your PIA that you will receive based on the age that you plan to retire.
The actual calculation is a bit more complex.
If you happen to have the W2 for every year that you have received income, then you might get a reasonable approximation of your PIA by downloading the PDF at www.ssa.gov/pubs/EN-05-10070.pdf and doing the math for yourself. Just remember that the index factors given in that PDF are only accurate to two decimal places. The Index factors are designed to adjust your earnings for each year's COLA increases.
Just follow the steps on the PDF, enter your annual earnings, adjust for COLA, pick the highest 35 years, divide by 420 (the number of months in 35 years), and then means test the result. For 2016 your benefit is 90% of the first $856, 32% from $856 to $5,157, and 15% of the amount over $5,157.
Some Yearly Benefit Examples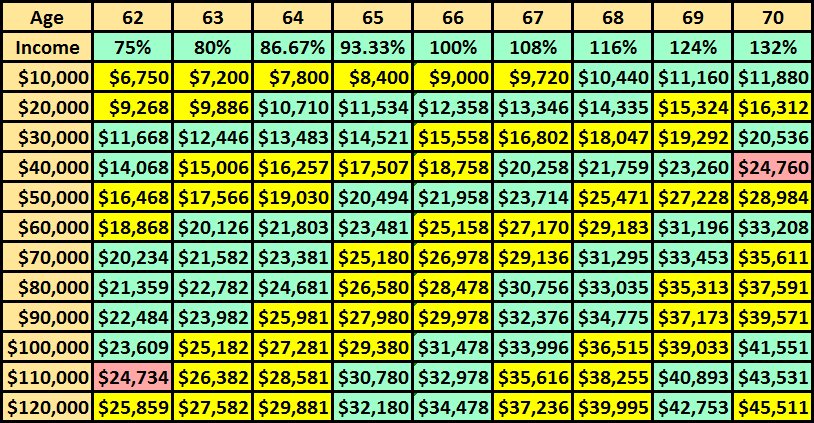 Your benefit level depends on both your average income level and also the age you choose to retire. The longer you wait to retire, the higher your benefit.
Take special note of the red numbers. A person earning $40,000 who retires at 70 gets a higher benefit than a person earning $110,000 who retires at 62.
Benefits as a Percentage of Earnings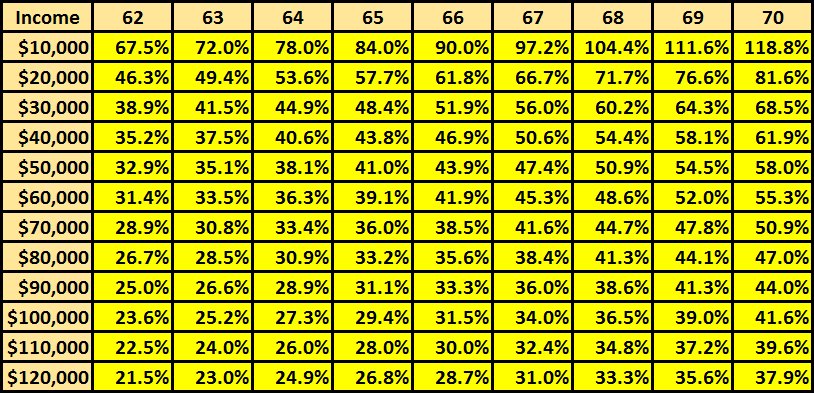 Our politicians constantly talk about means testing our Social Security benefits. This chart clearly shows the means testing that is currently in place. The percentage of income returned as benefits on the $20,000 line is more than double the percentage returned on the $110,000 line.
The second level of means testing, which will be discussed in more detail later, is the taxation of your benefits. Individuals whose gross retirement income is less than about $30,000 get their benefits tax free. By the $80,000 level the IRS is taking back about 21.25% of your benefits as taxes, 25% of 85%.