A quick look at the Market View software that I created.
I personally have no legitimate training in these financial issues, but when I had a paycheck to fall back on, I actively traded individual stocks and options. At that time in my life, actively meant looking at the market daily and often hourly or less. Now that I am retired, I want to be far more conservative and "actively" trade Mutual Funds and ETFs. Actively now means looking at my portfolio maybe monthly, to rebalance the portfolio maybe 2 or 3 times a year. Most of the brokers and advisors will say that you should buy and hold a fund for 5 to 10 years, but I want to keep a closer eye on things like the current market trends.
The most important thing about investing for retirement is having enough information about your possible investments "before" you invest your money. Most of us have no idea what to look for, so we place our trust in a broker or financial advisor, who makes a commission on what they do for us!
Finding adequate information on line can be very time consuming. There are literally more than 10,000 different Mutual Funds to choose from and there is no way that you can possibly investigate all of them. So, your first step has to be to make a "Short List" of maybe 10 to 20 funds that you want to investigate.
Your Broker's Website
When I try to Research Mutual Funds on my broker's website, there are over 11,000 funds to choose from. I can shorten that list to about 400 funds by clicking the check boxes for my broker's "Fund Picks" and the funds that my broker offers with "No Transaction Fees".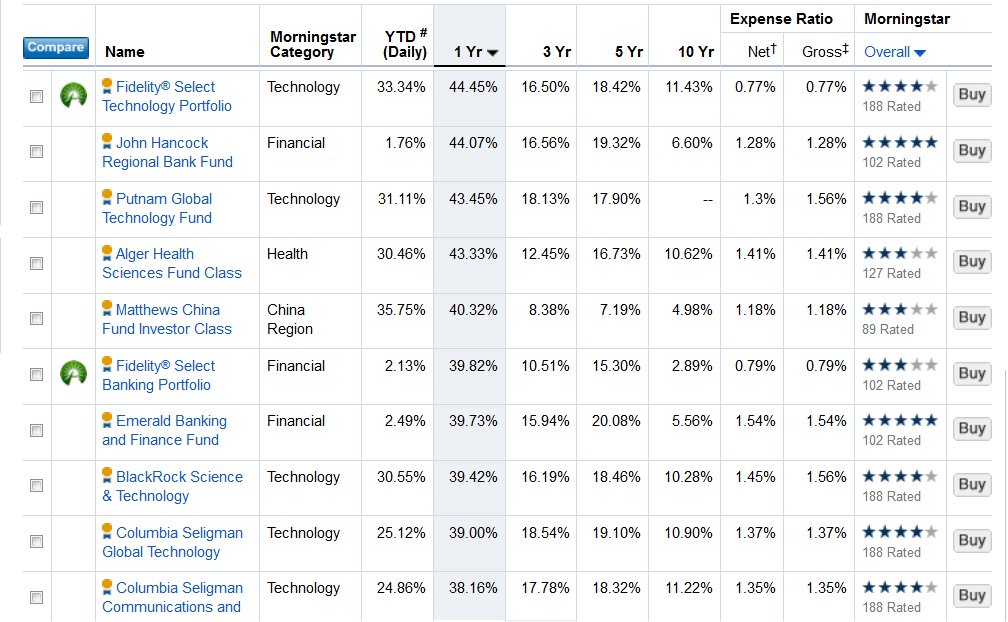 The list that I get from my broker is sorted on a single rate of return, "as of TODAY". The only way to see any type of historical view of the market is to click on the Fund Names and look at the historical graphs for each individual fund.
Looking at this image, the 1 Year rates of return are nicely in order from 44.45% to 38.16% while the YTD returns go from 33.34% all way down to only 1.76% then back up to 31.11%. Is this the best view for making decisions?